BIOLYTE®, The IV In A Bottle®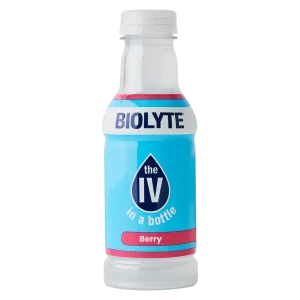 It's simple, BIOLYTE® is the first recovery drink to contain the same amount of electrolytes as an IV bag, plus key ingredients that promote balance in your body.
Physician formulated to help you feel better
BIOLYTE was invented by Anesthesiologist and Pain Specialist, Dr. Rollins, with one goal in mind: to help people feel better fast. During his wife's battle with breast cancer, she struggled to stay hydrated enough to keep up with her chemotherapy treatments. Dr. Rollins used his years of experience tailoring his patients IV bags and set out to create a product that would "bring the IV bag home" to people when they needed it the most. Thus, the idea of the IV in a bottle was born.